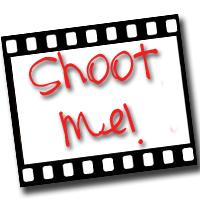 26 May 2010
First time to join "Shoot Me" meme... and I am so excited!
On Day 146, I scrambled to think how to picture myself. If doing Project 365 is difficult, I guess it was more difficult for people to do it all with self portraits! For a person who's not really into having her pictures taken, week after week, thinking of how to do a self portrait is indeed a mind blowing activity. :)
I was watching television in mom's room when I realized I still have to take a self portrait. This shot was one of those random thoughts I had... I was combing my hair when I thought of lying in the bed, brush off the hair to one side and take pictures. Using my cell phone, it took a while before I got the hang of it. I had small eyes and big eyelids, and with a big face, I didn't know how to position my head to make a good shot. I just took pictures after pictures and when my cell phone's battery gave off that "low batt" signal, I stopped. I told myself I might have taken something that would satisfy me. In the end I chose this picture.
I have always had the limpy thin hair. If there's something I could do to make my hair thick, I'd do it without asking a question.
*** Jenn ***